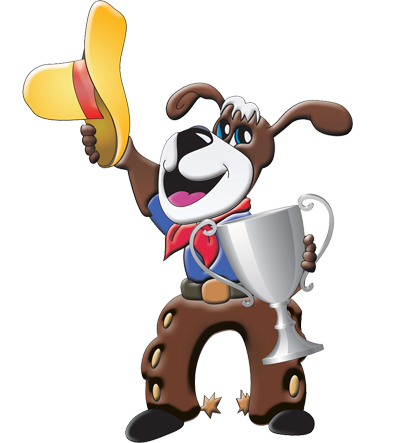 Our Story and a Dog: We've been partnering with companies like yours in San Diego for thirty years. We're experts in turning office break room spaces into retreats where employees come to refresh and recharge. Our wide range of services feature the most requested brand-name snacks, beverages and treats to keep employees engaged and productive throughout the work day. Our team will create a custom break room services menu to delight your employees. And, we'll regularly rotate in new products to keep your selection interesting and fresh.
The dog... Is a service hound, we are hounds for service… Created in 1984 by our founder Norm Leider... His name is TriR. He's a retro embodiment of the hardworking, dedicated spirit of man's best canine friend. And because we're in the west, he's sporstrutting proud after winning the Vend Operator of the Year Award. He's a bit old school yes, but our commitment to our customers still stands today. When you ring the breakfast, lunch, snack or dinner bell, we'll come running.
Learn More info@trircoffee.com(760) 753-1112
Serving San Diego since 1984.
Our story and a dog
Water Filtration Service in San Diego
Custom Water Filtration
Serve up a renewable supply of environmentally friendly, pure, fresh and healthy drinking water. Our innovative water purification systems are easy to use, affordable, and come in a variety of configurations to fit any office space.
Hot & Cold Dispensers
Our bottle-less filtration systems connect directly to your tap and provide great tasting water, hot or cold, at the simple touch of a button. With your choice of both tabletop and floor standing models.
Plumbed in Units
Tap into your pre-existing water lines with our state-of-the-art bottle-less water filtration system. Guaranteed to filter out all of the impurities giving you fresh clean water.
Brand Name Water
We also deliver a variety of the most popular bottled water. Keep it on hand as a refreshing beverage for your guests and it's always available for company functions. We'll keep you stocked with all the brands you love including: Arrowhead, Dasani, Aquafina, Crystal Geyser and Nestle.