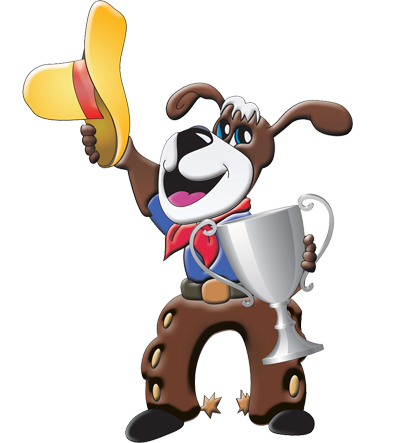 Our Story and a Dog: We've been partnering with companies like yours in San Diego for thirty years. We're experts in turning office break room spaces into retreats where employees come to refresh and recharge. Our wide range of services feature the most requested brand-name snacks, beverages and treats to keep employees engaged and productive throughout the work day. Our team will create a custom break room services menu to delight your employees. And, we'll regularly rotate in new products to keep your selection interesting and fresh.
The dog... Is a service hound, we are hounds for service… Created in 1984 by our founder Norm Leider... His name is TriR. He's a retro embodiment of the hardworking, dedicated spirit of man's best canine friend. And because we're in the west, he's sporstrutting proud after winning the Vend Operator of the Year Award. He's a bit old school yes, but our commitment to our customers still stands today. When you ring the breakfast, lunch, snack or dinner bell, we'll come running.
Serving San Diego since 1984.
Our story and a dog
Office Coffee & Tea Service in San Diego
The Brew Center
Great coffee and tea starts with state of the art brewing equipment. We'll customize your Brew Center with top of the line products like Keurig single cup brewers, airpots and pulse brewers for maximum coffee flavor and aroma during the brewing process.
The Coffee
When your employees want coffee, they want it Fresh, Hot and Now! We'll set you up with the hottest selection of fresh blends with cups, sugar and creamers to stir up the perfect cup every time.
The Tea
We've got your tea drinkers covered too. We can recommend the most popular teas and keep your center stocked around the clock with free delivery.
Our helpful staff is ready to customize your office coffee service solution
Let Us Recharge Your Break Room: Tri-R Vending & Coffee (760) 753-1112 info@trircoffee.com

We'll bring the coffee!