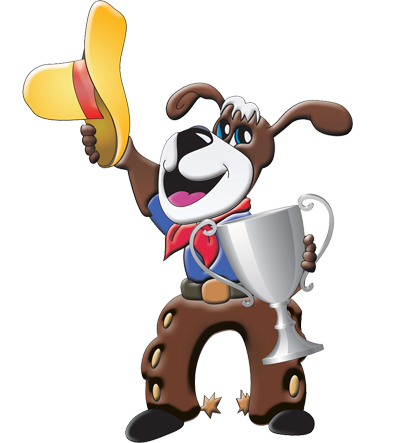 Our Story and a Dog: We've been partnering with companies like yours in Mira Mar for thirty years. We're experts in turning office break room spaces into retreats where employees come to refresh and recharge. Our wide range of services feature the most requested brand-name snacks, beverages and treats to keep employees engaged and productive throughout the work day. Our team will create a custom break room services menu to delight your employees. And, we'll regularly rotate in new products to keep your selection interesting and fresh.
The dog... Is a service hound, we are hounds for service… Created in 1984 by our founder Norm Leider... His name is TriR. He's a retro embodiment of the hardworking, dedicated spirit of man's best canine friend. And because we're in the west, he's sporstrutting proud after winning the Vend Operator of the Year Award. He's a bit old school yes, but our commitment to our customers still stands today. When you ring the breakfast, lunch, snack or dinner bell, we'll come running.
Learn More info@trircoffee.com(760) 753-1112
Serving Mira Mar since 1984.
Our story and a dog
Tri-R Coffee & Vending's Leading Vending Machines and Office Coffee Provider in Mira Mar
For your Mira Mar business needs Tri R Coffee Service can get you started free of charge and install the vending machines with the products your employees and customers crave.

Why install vending machines? Vending machines improve employee morale and productivity! Employees stay in the building, not driving around Mira Mar using up valuable company time. Great selections at reasonable prices will keep them using the vending machines and staying close to work stations. They meet fellow employees at break rooms or vending machine areas, exchanging ideas and having more of that "team Spirit" from knowing each other by face not email and fax!

Tri-R Coffee & Vending Distributes Premier office coffee service and water filtration in Mira Mar
What kind of vending machines does Tri R Coffee offer Mira Mar businesses? Vending machines for candy, Coca Cola vending machines, Pepsi vending machines, coffee and hot chocolate vending machines, snack vending machines and vending machines jammed full of healthy snacks that are low in calories, fat and sodium. Our state of the art vending equipment are serviced by our professional, uniformed staff twenty four hours a day, seven days a week. We will set the schedule that best fits the needs of your business. We have the resources to service anyone, from a large business to a mini company, one machine to one hundred and one machines, anything is possible with Tri R. Our machines can take cash or credit and debit card payments.

Mira Mar Provides Open Market Micro-Markets
We can set your business up with a Micro-Market too. Turn the snack area into a small market with a self-checkout kiosk! Increases the variety offered to your employees and makes it very convenient for them to refuel right at the office.

Tri R Coffee can also service the coffee needs of your Mira Mar business. We have the single cup systems by Keurig, pour over coffee pots or an air pot. We have what it takes to pour a delicious cup of coffee every time, with the variety to satisfy everyone's particular taste. We will even keep your coffee break room stocked with napkins, coffee, filters, creamers, sweeteners, stir stick and the cups to put them all in!

For more information on our products and services please contact us today 760-753-1112 or email us at info@trircoffee.com