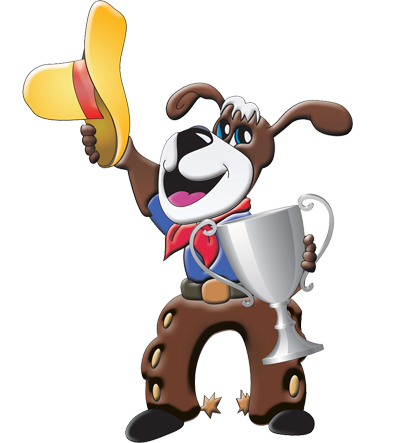 Our Story and a Dog: We've been partnering with companies like yours in San Diego for thirty years. We're experts in turning office break room spaces into retreats where employees come to refresh and recharge. Our wide range of services feature the most requested brand-name snacks, beverages and treats to keep employees engaged and productive throughout the work day. Our team will create a custom break room services menu to delight your employees. And, we'll regularly rotate in new products to keep your selection interesting and fresh.
The dog... Is a service hound, we are hounds for service… Created in 1984 by our founder Norm Leider... His name is TriR. He's a retro embodiment of the hardworking, dedicated spirit of man's best canine friend. And because we're in the west, he's sporstrutting proud after winning the Vend Operator of the Year Award. He's a bit old school yes, but our commitment to our customers still stands today. When you ring the breakfast, lunch, snack or dinner bell, we'll come running.
Learn More info@trircoffee.com(760) 753-1112
Serving San Diego since 1984.
Our story and a dog
Career Opportunities

Want to love your job? Come work for Tri-R Coffee & Vending, a company of great people looking for others to join our team. Positions include route drivers, warehouse personnel, repair technicians, sales representatives, and office support.
At Tri-R, we're interested in hard-working people focused on customer satisfaction. We take great pride in our work, our integrity and our reputation. We need team members who are dedicated to continuing our tradition of excellence as we grow to enhance break room services throughout San Diego.
To ensure the safest, most responsible working environment, all employees are screened for drug/alcohol use and must undergo thorough background checks.
If you believe you would make a great addition to Tri-R, please fill out the form below. We would be glad to add another employee committed to personal excellence to our team.