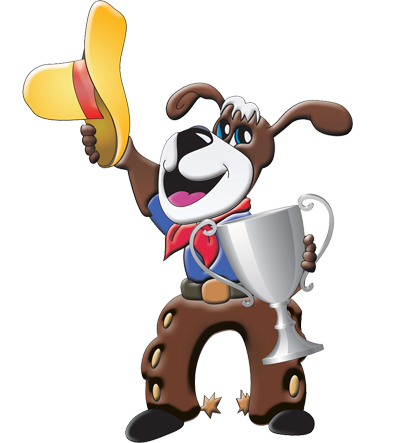 Our Story and a Dog: We've been partnering with companies like yours in Vista for thirty years. We're experts in turning office break room spaces into retreats where employees come to refresh and recharge. Our wide range of services feature the most requested brand-name snacks, beverages and treats to keep employees engaged and productive throughout the work day. Our team will create a custom break room services menu to delight your employees. And, we'll regularly rotate in new products to keep your selection interesting and fresh.
The dog... Is a service hound, we are hounds for service… Created in 1984 by our founder Norm Leider... His name is TriR. He's a retro embodiment of the hardworking, dedicated spirit of man's best canine friend. And because we're in the west, he's sporstrutting proud after winning the Vend Operator of the Year Award. He's a bit old school yes, but our commitment to our customers still stands today. When you ring the breakfast, lunch, snack or dinner bell, we'll come running.
Learn More info@trircoffee.com(760) 753-1112
Serving Vista since 1984.
Our story and a dog
Your Premier vending machines and office coffee service in Vista
So your Vista based business is ready to explore the idea of installing vending machines. Great idea, and Tri R Coffee can get you started right away, no matter what your food and beverage needs are!

Tri R Coffee is a full service vending company, meeting the needs of Vista companies such as yours for over twenty five years. We are insured, licensed, and our staff is professionally trained to give you the best service to go with the huge selection of quality food and drink options available. We handle large corporate accounts, and small businesses. We can vary our services to whatever your needs may be. We can refill your vending machines daily, weekly, every two weeks, and even after hours and weekends! Nobody is as flexible as Tri R Coffee!

Our uniformed staff will keep your vending machines stocked! Candy vending machines, snack vending machines, Coke vending machines, Pepsi vending machines, coffee and other hot beverages from vending machines, and hot or cold food vending machines. We will customize the vending machines to the needs of your business. Organic foods and nutritional vending machines are also available.

Your office coffee provider and water filtration service in Vista
Our brand new equipment has the latest in technology for the accurate delivery and dispensing of product and ease of payment with cash or credit cards. We can set you up with a Vista micro market, where employees pick out selections, scan and pay for them just like a supermarket self checkout isle.

Help keep Vista a great place to live and work! We are a green company-striving to recycle as much materials as possible, be energy efficient, reduce fuel consumption, use bio compostable products and the latest in technology to help us achieve the greatest efficiency possible. Our drivers have handheld computers and GPS to make sure they are not wasting time and energy on return trips to your Vista business because they forgot an item. Going green helps the environment, and just makes good business sense!

Your Leading Micro-Market Service Provider in Vista
Another time and money saving service for your Vista business is coffee service from Tri R Coffee. We can care for any break room or cafeteria's coffee needs too! Whether it's the Keurig single cup coffee makers you desire, or the more traditional pour over or air pots, we have your coffee covered at Tri R. It's not just about the coffee either. Cups, filters, stir sticks, sweeteners, creamers, napkins and the like are well stocked and organized so everybody can enjoy a care free cup of coffee!

For more information on our products and services please contact us today 760-753-1112 or email us at info@trircoffee.com