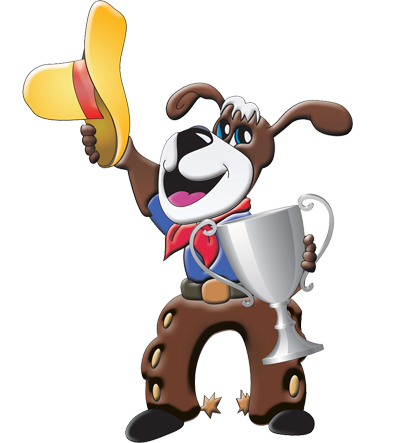 Our Story and a Dog: We've been partnering with companies like yours in Oceanside for thirty years. We're experts in turning office break room spaces into retreats where employees come to refresh and recharge. Our wide range of services feature the most requested brand-name snacks, beverages and treats to keep employees engaged and productive throughout the work day. Our team will create a custom break room services menu to delight your employees. And, we'll regularly rotate in new products to keep your selection interesting and fresh.
The dog... Is a service hound, we are hounds for service… Created in 1984 by our founder Norm Leider... His name is TriR. He's a retro embodiment of the hardworking, dedicated spirit of man's best canine friend. And because we're in the west, he's sporstrutting proud after winning the Vend Operator of the Year Award. He's a bit old school yes, but our commitment to our customers still stands today. When you ring the breakfast, lunch, snack or dinner bell, we'll come running.
Learn More info@trircoffee.com(760) 753-1112
Serving Oceanside since 1984.
Our story and a dog
Vending machines and office coffee service in Oceanside
Vending machines can increase productivity in your Oceanside business. Really! Having vending machines or coffee services from Tri R Coffee keeps employees from cruising the streets of Oceanside to quench their thirst and fill their hunger. Think of the wasted minutes when they have to leave the office!

Tri R Coffee has the experience and the name brand products that you require. Twenty five years in Oceanside, our professional uniformed staff will keep your vending machines stocked full. Service is available on a daily, weekly, or bi weekly rotation, or any customized rotation you may require!

And boy do we have vending machines. Vending machines from Pepsi or Coca Cola, candy vending machines, snack vending machines, coffee and other hot beverages in vending machines, vending machines with organic foods or nutritional choices. Other vending machine options include credit card payment or cash, guaranteed delivery service, and 24 hour 7 day a week vending machine services from Tri R Coffee.
Tri-R Coffee & Vending Provides Customers with Quality Office Coffee and Water Filtration Service in Oceanside
Your Oceanside business can get all its coffee needs handled by Tri R Coffee. Whether you prefer single cup coffee machines such as the Keurig system, or traditional pour over or air pots, we have whatever your coffee needs are. Large variety of coffee, and the filters, cups, creamers and sweeteners your employees demand, so they can each have a customized, delicious cup of coffee.

We can take care of large corporations as well as small businesses. Your break room or cafeteria area will be the envy of visitors from other companies, and your customers will be satisfied when at your location too!

Your Leading Micro-Market Service, Open Market Provider in Oceanside
How about a Micro-Market in your building? A Micro-Market is set up like a small corner store, with self check out and debit or credit card payments. Great for businesses of all sizes!

For more information on our products and services please contact us today 760-753-1112 or email us at info@trircoffee.com