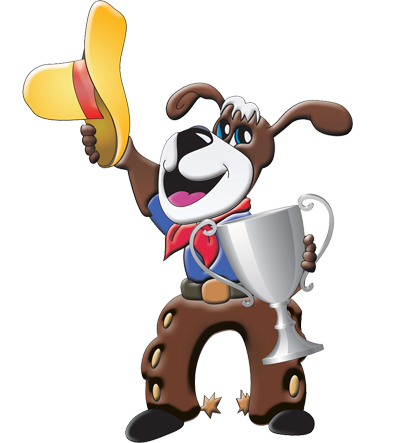 Our Story and a Dog: We've been partnering with companies like yours in San Diego for thirty years. We're experts in turning office break room spaces into retreats where employees come to refresh and recharge. Our wide range of services feature the most requested brand-name snacks, beverages and treats to keep employees engaged and productive throughout the work day. Our team will create a custom break room services menu to delight your employees. And, we'll regularly rotate in new products to keep your selection interesting and fresh.
The dog... Is a service hound, we are hounds for service… Created in 1984 by our founder Norm Leider... His name is TriR. He's a retro embodiment of the hardworking, dedicated spirit of man's best canine friend. And because we're in the west, he's sporstrutting proud after winning the Vend Operator of the Year Award. He's a bit old school yes, but our commitment to our customers still stands today. When you ring the breakfast, lunch, snack or dinner bell, we'll come running.
Learn More info@trircoffee.com(760) 753-1112
Serving San Diego since 1984.
Our story and a dog
Meet your San Diego tea time experts.
Office Coffee and Tea Service in San Diego

Enjoy tea that boasts superior
flavor and enticing aromas right on site


Tea has become an essential part of any good office coffee service program for today's San Diego workplace. Studies have been done that show teas many benefits, especially that of green tea which is reported to improve and maintain health. Many people love this comforting beverage that emcompasses dozens of flavors and varities. Tea is a great drink option in the morning, afternoon, or evening.
At Tri-R Coffee we carry only the best teas, including name brands such as Bigelow, Lipton, and Tazo. Choose black tea, white tea, oolong tea, herbal tea, etc. to offer at your workplace to ensure your employees and guests have the tea options they crave. Tri-R delivers professional tea service solutions that keep employees and guests satisfied and on site.